About Fresh A.I.R. Gallery
---
Fresh A.I.R. is located at 131 N. High Street
Fresh A.I.R. Gallery (Artists In Recovery) is a project of Southeast Healthcare and the gallery celebrates 17 years in 2021. The gallery's mission is to exhibit the work by individuals affected by mental illness and/or substance use disorders. Through art, we educate the community and work to break down the stigma of mental illness and/or substance use by bringing focus to the artist vision. Most pieces of art are all available for purchase, and Fresh A.I.R. Gallery does not take a commission, so all proceeds go directly to the artist.
Southeast Healthcare is a comprehensive provider of mental health, chemical dependency, physical healthcare, vocational and homeless services that has been serving Columbus since 1978 and is in eight Ohio counties. Project support funding in part thanks to the Greater Columbus Arts Council, the City of Columbus and Franklin County for Fresh A.I.R. Gallery in 2021. www.southeasthc.org.
Our gallery space continues to be closed to patrons as it is used by Southeast Healthcare, for expanded patient screening and distancing necessitated by COVID-19. In 2021 we are continuing and refining our pandemic-inspired approaches to exhibiting our artists' work. We have identified alternative locations, including but not limited to our grant funded artists' studio space in Chromedge in Franklinton, to host in-person exhibitions and have increased the online presence of our exhibits. This enables our artists to continue showing and selling their work and allows the viewing public to experience the vision of artists living with mental illness and/or substance use disorders at a time when the pandemic has led to increased mental health challenges in society.
Until we reopen, we are hosting physical exhibitions and carrying out our mission at SEEN Studios #21, our Franklinton art studio space inside of the Chromedge building, located at 289 W. Walnut Street, Columbus, OH, 43215. Please contact us to arrange a visit or stop by the studio the second Friday evening 6-10 for Franklinton Fridays.
Visit the Fresh A.I.R. Gallery website. »
Map It »
SEEN Studios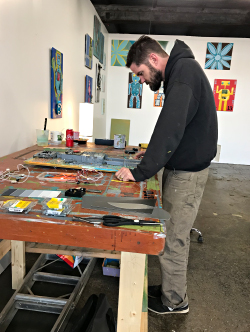 SEEN Studios artist David Leonard
SEEN Studios is a shared studio space where artists can create their artwork and further their careers in the arts. SEEN Studios is made possible by a generous grant. In existence since July 2017, SEEN Studios occupies a 1,100 sq. ft. studio within the Chromedge building in the historic Franklinton Arts District.
SEEN Studios provides a valuable resource for Fresh A.I.R. Gallery artists who seek a dedicated space to create and a clean, safe working environment. It also aims to facilitate artist development through workshops and discussions. SEEN Studios is a place for collaboration, artistic inspiration, and learning.
Map It »
---
Videos