About Fresh A.I.R. Gallery
---
Fresh A.I.R. is located at 131 N. High Street
NOTICE: In response to the COVID-19 pandemic, Fresh A.I.R. Gallery is temporarily closed to patrons. To view artwork until we reopen, please visit our virtual exhibitions and exhibit archive.

Fresh A.I.R. Gallery exhibits the works of individuals affected by mental illness and/or substance use disorders. Through art, we educate the community and work to break down stigma of mental illness and substance use disorders by bringing focus to the artistic vision.
Fresh A.I.R. Gallery opened its doors in September of 2004 to celebrate Southeast's 25 year anniversary and typically sponsors between five and eight exhibits a year. Fresh A.I.R. Gallery is a project of Southeast Healthcare.
Since opening our gallery doors in September 2004, Fresh A.I.R. Gallery has shown 80 exhibitions, displaying the artwork of over 200 artists, sold more than 500 pieces of artwork totaling over $75,000.  Fresh A.I.R. Gallery does not accept any commission for art sold through the gallery and all proceeds from sold work go directly to the artists to help them establish their careers.  Many exhibits demonstrate the courage and struggles of the artists as they combat stigma and address social issues.
2018 was an extremely rewarding year at Fresh A.I.R. Gallery (Artists in Recovery.) Exhibits have featured the work of artists from across the country, all in different stages of recovery from their respective illness. Fresh A.I.R. Gallery also operates SEEN Studios #21 in the thriving Franklinton arts district.
Visit the Fresh A.I.R. Gallery website. »
Map It »
SEEN Studios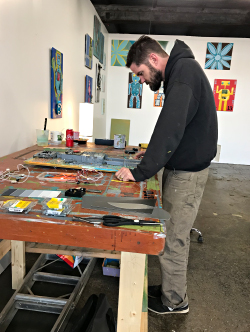 SEEN Studios artist David Leonard
SEEN Studios is a shared studio space where artists can create their artwork and further their careers in the arts. SEEN Studios is made possible by a generous grant. In existence since July 2017, SEEN Studios occupies a 1,100 sq. ft. studio within the Chromedge building in the historic Franklinton Arts District.
SEEN Studios provides a valuable resource for Fresh A.I.R. Gallery artists who seek a dedicated space to create and a clean, safe working environment. It also aims to facilitate artist development through workshops and discussions. SEEN Studios is a place for collaboration, artistic inspiration, and learning.
Map It »
---
Videos